I received this book for free from HarperTeen in exchange for an honest review. This does not affect my opinion of the book or the content of my review.
The Way Back to You
by
Michelle Andreani, Mindi Scott
Published by
Katherine Tegen
on May 3, 2016
Genres:
Contemporary, Young Adult
Pages:
384
Format:
Hardcover
Source:
HarperTeen
Buy the Book
•
Goodreads
For fans of Jenny Han and Morgan Matson, a witty, poignant novel about second chances, letting go, and the unbreakable bonds of friendship.

Six months ago, Ashlyn Montiel died in a bike accident. Her best friend, Cloudy, is keeping it together, at least on the outside. Cloudy's insides are a different story: tangled, confused, heartbroken.

Kyle is falling apart, and everyone can tell. Ashlyn was his girlfriend, and when she died, a part of him went with her. Maybe the only part he cares about anymore.

As the two people who loved Ashlyn best, Cloudy and Kyle should be able to lean on each other. But after a terrible mistake last year, they're barely speaking. So when Cloudy discovers that Ashlyn's organs were donated after her death and the Montiel family has been in touch with three of the recipients, she does something a little bit crazy and a lot out of character: she steals the letters and convinces Kyle to go on a winter break road trip with her, from Oregon to California to Arizona to Nevada. Maybe if they see the recipients—the people whose lives were saved by Ashlyn's death—the world will open up again.

Or maybe it will be a huge mistake.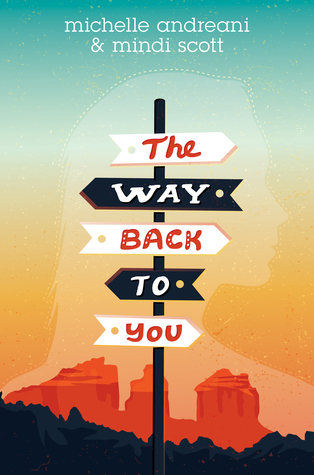 Cover– Fits the story perfectly. Draws readers to buy the book
Story– Raw, emotional and sad at times as two teens deal with the death of their best friend. There are questions of life after death, swallowing emotion and loyalty to loved ones.
What I Loved– The road trip element and the changes it brings in both Cloudy and Kyle to get away, serve someone else, and grieve together instead of going at it alone. The emotional moments meeting organ donor recipients.
What I Struggled With– The way the teen died. Some of the story may be triggering for anyone who has experienced the death of a loved one in the recent past. It can be heavy. There is a lot of dialogue about what lies after this life. May call in to question basic beliefs for Christian teens.
Family Relationships-Teens with strong bonds to their siblings and cousin. There is also great conversations going on between father and son. It's not shiny and happy, but it's real.
Fun Fact–  I know one of the authors Michelle Adreani. She and I have spent fun times in New York City and New Jersey at BEA, conventions. Michelle is amazing inside an out!
Overall- You will cry. It takes a lot for me as a reader to get emotional. Heartwarming feel good ending to a tough subject.
Content-highlight to reveal Drug use, making out, talk of sexual relationships, LGBTQ teen relationship, heavy swearing in first chapters including "F' word
Hi! I'm Michelle.
I was born in New York City, and have never lived anywhere else. (I should maybe try at some point? What's your town like? Does it have weird bugs?)
I first learned to drive a car when I was in my twenties, which is totally normal because I'm a New Yorker, I swear! I also have two agoraphobic cats who would not be great at road trips, honestly, but they make up for that with extreme cuteness.
I am a liker of many things. These things include staying in, going out dancing, love stories, beach air, milkshakes, pop songs, and Luna Lovegood.
Mindi Scott lives near Seattle, Washington, USA with her drummer husband in a house with a non-sound-proof basement. Freefall, her first novel, was published by Simon Pulse in 2010. Her second novel, Live Through This, was published (also by Simon Pulse) in 2012. She contributed a chapter to Violent Ends, a collaborative novel written by 17 young adult authors (out in 2015), and co-wrote, along with Michelle Andreani, the 2016 novel The Way Back to You. She is represented by Jim McCarthy of Dystel & Goderich.