I received this book for free from in exchange for an honest review. This does not affect my opinion of the book or the content of my review.
Beyond the Rising Tide
by
Sarah Beard
Published by
Sweetwater
on June 14th 2016
Genres:
Contemporary, Paranormal, Young Adult
Pages:
304
Format:
Paperback
Buy the Book
•
Goodreads
Kai was seventeen when he died saving Avery's life, though he didn't have much to live for. After spending half his life being shipped around to different families, the only place he felt at home was on a street corner with his guitar. Now, it's been six months since his death. Six months adapting to a new kind of existence where instead of making music, he uses his new healing powers to save lives. But in his off hours, he watches helplessly as Avery's life is unraveled by his death.

Avery doesn't know that it was Kai who saved her life in the ocean, because her rescuer's body was never found. Wracked with guilt, the ocean she once loved is now her tormentor. As her surfboards collect dust in the garage, the weight of her grief destroys her relationships and stretches her to a breaking point.

Always willing to break rules for those he loves, Kai steals a ring that temporarily gives his body substance. With limited time, he does all he can to restore her life to the way it was before his tragic death, but Kai's half-baked plans rarely turn out the way he thinks they will. Beyond the Rising Tide is a beautiful love story that explores life, death, and the gray places in between.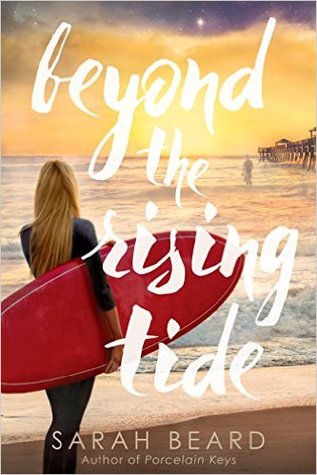 Be forewarned, that once you pick up this book, you will need to carve out a day to read it and a while to recover.
Loved: The cover, it is perfect! The setting also matches the mood of the book and as a California native, I can appreciate the ocean, the vineyards, the sand and the fog.
Pace: Because most of this book is munched into three short days, it does at times feel rushed and the relationship too fast. But it makes for a page turning read!
Issues: Beyond the Rising Tide may be a trigger for someone who's survived mental illness or suicide. This has some mature life experiences like drug use, foster care, divorce, bi -polar disorder and grief. It's not so heavy as to be overwhelming, but definitely a book for a mature, older reader. The main characters are 17 but have lived a lot of life through their parents' struggles.
Overall: Beautiful, healing. You may be a mess of tears in some parts. Sarah Beard explores life after death and the in between, as well as learning to recover and live after losing something. There are undertones of the atonement and of how we have to accept the sacrifice that has been given. Christian themes are well- woven and not overtly mentioned.
What a good read!!
Blog Tour Schedule
June 14: Singing Librarian Books | Emmy Mom | Compass Book Ratings
June 15: Katie's Clean Book Collection | Cindy Bennett
Sweetly Made | Sorcery in the Bookshelves
June 16: Rockin' Book Reviews | Geo Librarian
June 17: Heidi Reads | Kindle and Me
June 18: Fire and Ice
June 19: Inklings and Notions
June 20: My Book a Day
June 21: Bookworm Lisa | Min Reads and Reviews | LDS Women's Book Review
June 22: Robyn Echols Books | Fantasy World | The Write Path
June 23: Wishful Endings | Getting Your Read On | Batch of Books
June 24: Mylissa's Reviews and Book Thoughts | Maybe Books Will Be Our Always
June 25: Charmed Haven Book Reviews | Just Commonly
June 26: Paranormal and Romantic Suspense Reviews
June 27: Literary Time Out | Book by Book
June 28: That Artsy Reader Girl | The Real Housewives of Riverton
June 29: Mel's Shelves
June 30: Books Are Sanity | Fictionally | Read Headed Book Lady
Sarah Beard is the author of YA novels PORCELAIN KEYS and BEYOND THE RISING TIDE. She earned a degree in communications from
the University of Utah and is currently pursuing an MFA in creative writing from VCFA. When she's not writing, she referees wrestling matches between her three boys and listens to audiobooks while folding self-replicating piles of laundry. She is a breast cancer survivor, a baker of sweets, a seeker of good love stories, a composer of melancholy music, and a traveler who wishes her travel budget was much bigger. She lives with her husband and children in the shadow of the beautiful Wasatch Mountains. You can follow Sarah on twitter at @authorsarahb, or at facebook.com/authorsarahbeard. Her website is sarahbeard.com.